Article by Lance Dunlap
@LanceLovesHeels
Rarely in college basketball do we see any team dominate another team for an extended number of years. Most college basketball programs have close to a .500 record against most other programs. However, there are a few programs that have separated themselves over the years as consistently great. These programs are known as the blue bloods of college basketball and are (moving East to West) Duke, North Carolina, Kentucky, Kansas, and UCLA. Some may argue Indiana and/or UConn belong in this group, but most believe these are the clear top five college basketball programs of all-time. With that said, the current streak UNC has against Clemson in Chapel Hill is like nothing the other blue bloods have accomplished or anything else in the history of college basketball. After the Tar Heels' Monday night (surprise) blowout victory over the Tigers, UNC improved its all-time record vs Clemson in Chapel Hill to 57-0, an NCAA record. That's right; the Clemson University men's basketball program has NEVER won a game in Chapel Hill.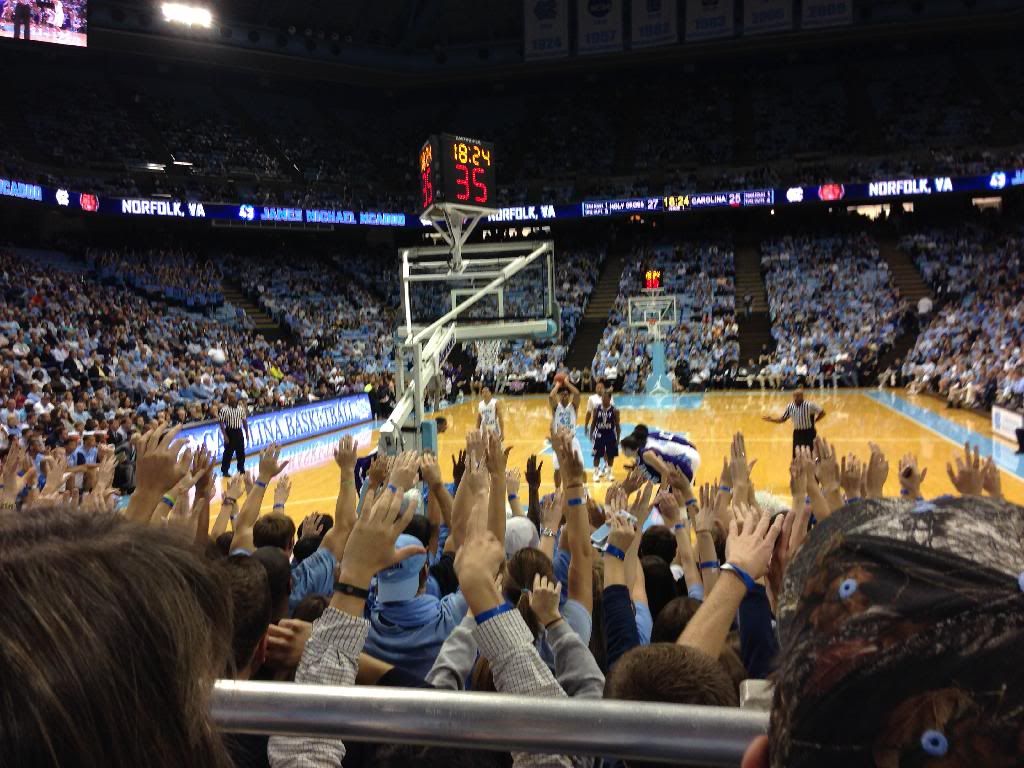 Dating back to the first time North Carolina hosted Clemson in 1926 (88 years ago), Clemson has yet to come out of Chapel Hill with a win. Just let that sink in. That dates back to when North Carolina played in the Tin Can, to Woolen Gym, to Carmichael, and finishing (at the moment) in the Smith Center. When most Tar Heel fans think of dominance, they think of Tyler Hansbrough going 4-0 vs Duke in Cameron (or Hansbrough) Indoor Stadium and/or Roy Williams' undefeated streak at home against NC State since returning to UNC in the 2003-04 season (Roy has only lost twice in Raleigh to NC State in that same span). However, both of these streaks are just drops in the bucket compared to the authority with which the Tar Heels have handled Clemson in Chapel Hill over the last century. Oddly enough, Clemson was almost able to end the streak (most Clemson fans call it "the curse") against one of the best teams UNC has ever fielded. In the spring of 2008, Clemson took #3 ranked UNC into double overtime in Chapel Hill before Carolina was able to pull out a victory. That North Carolina team finished the season 36-3 (most wins ever by a UNC team) and returned most of its players to march on to the 2009 NCAA Championship.
Many people thought this week's game in Chapel Hill might bring an end to the streak as the Tar Heels had been struggling this month, starting ACC play 1-4, and Clemson had started conference play so well, beating Duke just two weeks earlier. However, about halfway thru the first half, the Tar Heels' defense gained intensity and held the Tigers to just one field goal for a little over 18 game minutes, spanning from first half into the second half. During this time, Carolina found its groove with 8 different Tar Heels scoring in the first half and then extending the UNC lead to as much as 31 points in the second half before cruising to an 80-61 victory. For a fan base that hasn't had much to cheer about thus far into the 2014 calendar year, this victory revived hope that Carolina can return to its early season form and compete in this new, deeper ACC. The coming weeks will show if this intensity and focused can be sustained by Carolina or if this young team needs more development and time to mature.
Clemson Postgame Interviews, Highlights, and Box Score
Go Heels!